Online Communities
We work with corporate and public sector clients to create and manage vibrant online communities. We can help you determine the right role for online communities and networks in your organization, and we can build, recruit, and grow them across platforms. Our involvement can range from advising on strategy and tactics to actually building and managing online communities and networks. More specifically, we can:
Identify the appropriate role of online communities and networks for your organization by assessing your current online offerings and overall objectives.
Develop and implement community strategy that will differentiate your offerings from others in your category, address unmet needs, and attract the influencers who drive traffic online.
Determine the appropriate mix of initial features and activities for your community (overbuilding is a common online community flaw) and develop scalable growth paths.
Design and implement effective grassroots and viral recruitment of new community members in an increasingly fragmented online universe.
Increase the quantity, quality, and depth of online community participation and collaboration, including recruiting and training of online community leaders.
Create content and marketing alliances / affiliations with corporate and organizational partners. (Grunwald Associates has strong relationships with leading companies and organizations both inside and outside education).
Help leverage existing assets within your organization to fully integrate communities into operations, use communities to meet organizational goals, and run them cost-effectively and sustainably.
Recent Cases
We've been involved in three recent leading online community-based initiatives that are creating pioneering new models within their categories
Connected Educator Month
Connected Educator Month (CEM), 2012-15, was a month-long celebration of online education communities and networks as part of the U.S. Department of Education's Connected Educator initiative CEM was designed to showcase practice and research in online communities and networks, guide and inspire more educators to become community members and participants at higher levels, and support collaboration and innovation to move the field forward. It included forums, webinars, guided tours, open houses, online courses & classes, themes, collaborative projects, matchmaking services, international events, book clubs, radio shows, social media streams, Pinterest boards, beta tests, product launches, contests, surveys, badges, guides, kits, newsletters, blogs, databases, curations, directories, sponsorships, and more. Grunwald Associates played a leading role in the conceptualization, partner recruitment and support, building, organization, management, promotion, and execution of CEM.
Results: CEM exceeded expectations by a wide margin, generating an average of 1.4 million Twitter impressions/day in year one, with more than 4 million following the hashtag, and 251,000 mentions and references on sites across the Internet; more than 150 education organizations, communities and companies mounted events, about a quarter of them collaborative. By 2015, the event reached 16-17M/day around the world via Twitter alone, was discussed or promoted in more than 6M online locations, and involved more than 1,000 organizations, with nearly 70% of all the events and activities collaborative. The concept of a "connected educator," which began as an obscure phrase in the National Educational Technology Plan, became ubiquitous at major education events and in significant education publications. A US Department of Education report about the event can be accessed here.
U.S. Department of Education: Connected Educators.org, Connected Educators Initiative
Working with partners including the American Institutes of Research (AIR), the Consortium for School Networking, and the State Education Technology Directors Association, we supported the U.S. Department of Education's initiative on connected online communities of practice. We played a leading role in the creation and development of the project's main report, Connect and Inspire, as well as on briefs about key issues such as community metrics and community technologies. We worked closely with AIR on the project's flagship distributed community, Connected Educators, participating in everything from branding and conceptualization to day to day management. In addition to interactive versions of project reports and briefs, Connected Educators included a directory of education communities, an education community managers network, and more.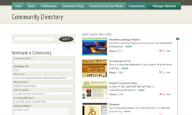 Results: Connected Educators community was hailed for the quantity and quality of participation it generated. It created powerful forums for communication between community leaders and education managers, a group that has been historically difficult to bring together and engage. Connected Educators was also noted for successfully developing a complementary constellation of social media satellites, each serving a specific and unique purpose beyond the pure self-promotion that's been shown to turn off many social media users.
National Science Foundation: Media & Informal Science Learning
In partnership with the Institute of Learning Innovation, we built NSF Media & Informal Science Learning, which pioneered the use of blended in-person and online dialog in order to bring together informal science educators and media leaders. It kicked off with an in-person meeting between leaders of both interest groups, then migrated online in the form of a stand-alone site and associated LinkedIn group.
The site itself was built around concrete cases of informal science educational media, with discussions moderated by the products' developers, which proved effective in providing common ground for front-line practitioners in the two groups, while the more question-based LinkedIn group provided a comfortable platform for thought leaders. A best practices wiki, seeded with content from the in-person kick-off meeting, supplied additional grounding.
Results: The NSF site and LinkedIn group have been widely praised (by NSF and independent evaluators) for the quantity and, especially, the quality of discussion generated during the time the project was officially active. Key metrics such as average replies per discussion, responsiveness, and posts/member were very strong for this audience. Thousands of education and media professionals in more than 100 countries have viewed each of the cases. And the LinkedIn group has more than 2,300 members drawn from nearly every major informal science education institution in the U.S., as well as many media groups, leading universities, and international organizations. A more detailed description of our learnings from the project can be found here.