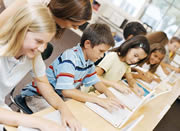 Research, Strategy and Communications
At Grunwald Associates LLC, we provide our clients with the highest quality market research and strategic consulting services to help grow their businesses and meet their organization's objectives.
Grunwald Associates produces the most respected industry research on technology, youth, families and the education markets. We are leading providers of custom market research and strategic consulting on corporate public relations and messaging, business development, and alliances and online services. Read what industry leaders say about Grunwald Associates.
We invite you to explore our Website to learn more about our extensive capabilities and expertise.